On the Horizon: Battlestar Galactica CCG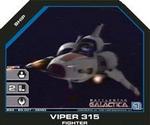 Battlestar Galactica has reinvigorated our thirst for high quality SciFi Television. The show rocks (hands down) with complicated plot lines, deep characters, internal conflicts, and - oh yeah - there's an evil race of immortal robots who've set-out on a pilgrimage to wipe-out the entire human race in hopes of getting closer to God. Mommy.
Today Wizkids (Crimson Skies, Pirates) sent out press details of their Battlestar Galactica Collectible Card Game. The game will ship in May with two starter packs heavily themed with the story of the first two seasons of the show. One collection of cards is led by the militaristic Commander (Admiral?) Adama, while President Roslin heads-up the other, more politically themed deck. Both packs will contain 61 cards, and retail for around 11 bucks. Fifteen-card booster packs (4 dollars US) will also be available, and will contain the standard card-distribution of commons, four uncommons, and one rare in each. The game's first series has 144 cards in total.
Stay tuned - we'll let you know more about the game as soon as we get our hands on it. Until then, check out the official BS:G CCG website for more details.
Read More in: Collectable Card Games | Gaming News
Share this Article with others:
Related Articles:
Came straight to this page? Visit Critical Gamers for all the latest news.
Posted by Critical Gamers Staff at January 16, 2006 3:49 PM