Now Shipping: "Axis & Allies Naval Minatures: War at Sea"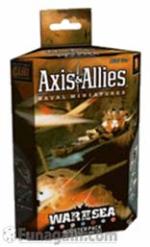 WWII History Buffs listen up. It's 1940, the sea lanes aren't safe, and Eleanor Roosevelt just smashed a champagne bottle across your ugly bow. Abide the no wake signs, then hit the open ocean - it's time to take your battleship for a 28 knot tour and kick some butt.
Axis & Allies Miniatures just shipped "War at Sea", and now you can recreate some classic naval battles from WWII history. The set includes 64 painted ship types, including: destroyers, cruisers, battleships, and the newest king of the taskforce: aircraft carriers and their supporting cast of fighters and attack planes. All of the major WWII naval powerhouses are represented here, and even the Italians are given some love for their action in the Mediterranean. If that's not thorough then we don't know what is!
You can check out the level of detail of the units by clicking here. The game's official website also has a six preview articles, including a look the game's naval airplanes, and a look at both the British Cruiser Ajax, and the German Pocket Battleship the Admiral Graf Spee in the sixth article .
The game ships in two formats: The A&A Miniatures: War at Sea Starter Set [Amazon,Funagain] has enough for two players to get playing and familiarize themselves with the rules. Then spice up your game by grabbing a Booster Pack [Amazon, Funagain] which contains a random collection of 5 more miniatures to expand your set.
Here's the official press release:
The Company Line: 2007 will be the debut of the all-new Axis & Allies Naval Miniatures game. With 64 authentically detailed miniatures, gamers, collectors, and history buffs will be able to assemble fleets of the finest vessels to ever do battle on, under, or above the sea in World War II. Fast-paced and action-packed, this exciting, new miniatures game will let players recreate historical battles or go head-to-head in competitive warfare that rages across massive 30"x40" battle maps.

64 authentically detailed carriers, battleships, destroyers, cruisers, submarines, aircraft and other vessels from WWII .
Unique ships—such as the BB Bismarck, IJN Yamato, and the USS Enterprise—feature their distinctive markings and camouflage.
Abilities and statistics of units are based on their historical performances in battle.
Prepainted, durable plastic—fully assembled and ready to play, right out of the box.
Larger (Rare) ships have moving parts (turrets/main guns)
Double-sided battle maps allow the creation of massive 30"x40" battlefields that can be customized with the double-sided island cards
Read More in: Board Games | Collectable Card Games | Gaming News
Share this Article with others:
Related Articles:
Came straight to this page? Visit Critical Gamers for all the latest news.
Posted by Critical Gamers Staff at March 20, 2007 1:40 PM