Now Shipping: Axis & Allies Miniatures D-Day Boosters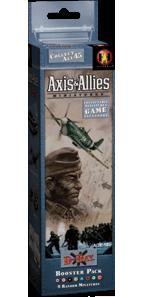 Avalon Hill has released their latest installment to the Axis and Allies Miniatures tactical board game Axis & Allies D-Day. The new expansion adds 45 new units including: 25 Allied units, 16 Axis, new airplanes, heroes, and 4 new battlefield obstacles.
The Official Line: The assault on Fortress Europe begins with D-Day. Highlighting units and nations involved in Operation Overlord – including the debut of Canadian troops – D-Day features the introduction of battlefield obstacles: immobile, non nation-specific units like pillboxes and tank traps that add to the realism of game play. Fan requested favorites like the Supermarine Spitfire and Jagdtiger also roar into action.

The D-Day Booster Pack Contains:


9 randomized, prepainted, durable plastic miniatures
Full-color game stat cards
Set Checklist
Rules not included.
You can grab the D-Day expansion miniatures in the form of booster packs, which are in stores now. Each booster includes 9 random models from the Rare, Uncommon and Common model distribution. The rares in D-Day are mainly new fighter planes, ground attack aircraft , and Allied armored vehicles. Axis mech forces lie mainly in the "Uncommon" rarity type, except for two rare variants of the Tiger tank.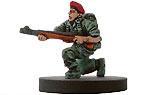 If you're drooling for some multimedia then check-out the Axis & Allies Miniatures D-Day Gallery for individual images of every one of the fourty-five new units.
More information about Axis and Allies Miniatures game [Funagain], and its D-Day Booster Expansion [Funagain], can be found at Avalon Hill's official A&A Miniatures website.

Read More in: Board Games | Collectable Card Games | Gaming Culture
Share this Article with others:
Related Articles:
Came straight to this page? Visit Critical Gamers for all the latest news.
Posted by Critical Gamers Staff at June 6, 2006 10:16 AM