MT:G Guidpact Draft Strategies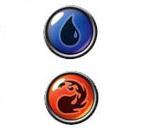 We've played enough Guildpact (via Magic Online) to have hit that "comfortable" level of card knowledge. Replicate has been a cinch since day one, but Haunting no longer scares us, and we've learned that the 'trick' to Bloodthirst isn't knowing when to use it, but knowing how to defend against it.
Now It's time to put a draft-tournament together to see which critical-genius is the alpha male of the 'pact.
It's funny how well things fall into place in life. Synchronicity I suppose - 'cause Wizards of the Coast just posted a great feature article regarding Guildpact Drafting Strategies. This is only part one of two, so the article doesn't march headstrong toward a end-all conclusion, but there's still some great tidbits in here.
This seems like Noah Weil's first article for official Magic:TG website, and yet he's got the saphrolings to flatout rank the Guildpact faction from best to worst: 1.Izzet (Red/Blue) 2.Gruul (Red/Green) 3.Orzhov (White/Black). A fairly lbrave move I must say, but he describes why he's made his selections, and his reasons are hard to disagree with.
Click here to read the full article.

Read More in: Collectable Card Games | Gaming News
Share this Article with others:
Related Articles:
Came straight to this page? Visit Critical Gamers for all the latest news.
Posted by Critical Gamers Staff at March 13, 2006 5:19 PM