MTG Duels of the Planeswalkers Hits XBox Live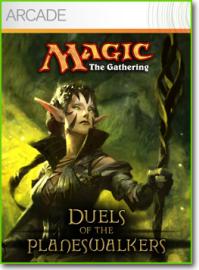 A quick reminder that Magic the Gathering Duels of the Planeswalkers (800 MS Points) is slated to hit Xbox live today! So fire up your 360 and get on with some CCG goodness. The release doesn't correspond to any of the recently MTG sets, but contains its own collection of cards, some available when you start playing and others unlocked as a reward for playing matches. The game also supports multiple multiplayer modes, including Two-Headed Giant versis AI, and versus other players, and free for all modes for 2-4 players. There are also two tournaments slated for over the next three weeks, and Future Expansions are also under development as well.
For more information about MTG: Duels of the Planeswalkers, check our previous coverage: Magic the Gathering Injects Itself into Xbox Live June 17th. We'll see you online!

Read More in: Collectable Card Games | Gaming News
Share this Article with others:
Related Articles:
Came straight to this page? Visit Critical Gamers for all the latest news.
Posted by Critical Gamers Staff at June 17, 2009 9:15 PM