Magic TG: Guildpact Draft Strategies Part Two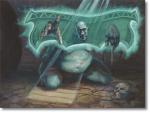 Wizards of the Coast (WoC) posted a great article a few weeks ago about eight player draft strategies for certain Guildpact Guilds and cards. Actually, it's more of a take-home exercise than a strategy guide, custom tailored for folks like us who are constantly in search of more Guildpact know-how.
Why should you care? Well the original questions remained mere questions, until now. The polls are in, and WoC Magic expert Noah Weil wrote up a great article of reactions and analysis. He seems like such a friendly guy - he didn't freak-out over his disagreements with public opinion.
Speaking of nice guys, we'd just like to say that if you never bothered to take the original survey but decided to skip straight-to the answers anyway, then we 're going to go ahead and call you "a lazy bum". Sure, it lacks tact, but we are critical. Don't come crying to momma when you decide to draft a "Pillory of the Sleepless" to deal with large creatures instead of a "Douse in Gloom", and a common "Absolver Thrull" bites you in the tucus. Yikes, did that just come out of our mouths?
We joke because we love... but seriously, you're a lazy bum. Hey, are those beers?
Read More in: Collectable Card Games | Gaming News
Share this Article with others:
Related Articles:
Came straight to this page? Visit Critical Gamers for all the latest news.
Posted by Critical Gamers Staff at April 5, 2006 10:05 AM