Dreambade: A Primer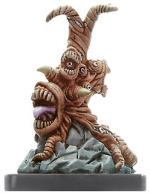 In our second installment of TCG: It's Friday we'll take a look at some of the mechanics of Dreamblade, the hot ticket collectable miniatures game just released by Wizards of the Coast. It's what all the kids are talking about; it's all that WotC is talking about. It's what we're talking about.
Setting
A game of Dreamblade is about a conflict that takes place within the dreamscape - the shared unconsciousness of every sleeping person in the world. It seems that some mad scientists wanted to tap into our nightly horrorshow fantasies and watch how we retreat from the stresses of a normal work day. You know the dream they're after - You hear a crack as you bite into a old pretzel and realize your teeth are about to fall out, but then Chuck Norris swings down and saves you from the pit of ravenous squirrels only to be impaled on the mandebles of the giant soldier ants hellbent on taking over the government and installing an ironfist communist regime. When will those ants learn that it's a two party system?! Bah!
But we digress. The dreamscape of Dreamblade is represented as a board and starts as a neutral territory at the start of the game. Players spawn creatures in a race to be the first to gain control of the plane of unconsciousness. The presence of your creatures on specific places of the board will increase your control (read: score). Of course, your opponent is hellbent on doing the same thing, and can use his creatures to solidify his place in the dreamscape, or he could use them to attack your creatures in his attempt to kick you out of the plane once a for all.
Players collect creatures of various forms of dreams (Fear, Passion, etc) by buying them in booster packs. The player is then tasked with making a deck with a strong enough combinatoin of creatures to defeat his opponent through force or through trickery. But we're getting ahead of ourselves.


A TCG/CCG Primer
If you're an expert trading card game player than feel free to skip this bit of info. As we've mentioned before, a majority of our TCG / CCG experience has come from playing Magic the Gathering (pre college, post college, and reinvigorated by the recent Ravnica block), so most of our TCG terms and definitions stem from that title. That's good, because Wizards of the Coast has a patent on the design of collectable card games. Almost every game in the genre plays with the same base set of rules - not only is it a proven system, but the companies producing games have already payed a royalty to WotC, so they never have to conceal or mutate portions of the game in order to avoid being sued. That doesn't mean every CCG is the same, but the game mechanics have many commonalities throughout the titles in the genre.
Here's how a normal game works: players draw cards, deploy reusable resources, and then use their resources to bring creatures from their hand of cards into the play. The resources come in various colors, and are generally tied to particular creature theme within the game. For instance, one resource type could be used to to create lots of cheap creatures, another is designed to create fewer but larger and more powerful creatures. For the more advanced players, some resource types (colors) spawn elusive creatures with special abilities that allow for some tricky gameplay. Players can also use resources to play cards that alter the ability of their creatures, buffing them so they deal extra damage.
A player's ultimate goal in a CCG is scoring enough damage points, or more commonly, inflicting enough damage to an opponent to bring their life to zero.
A lot of the fun in playing CCGs comes from collecting a library of cards, which are sold in packs of 15 or so (booster packs). Each pack contains a random bunch of common and rare creatures of all resources types, which a player uses to build and expand their collection. It's only the very rich who own all of the cards, and so most players must make do with the limits of their library. Half the fun is selecting cards from your collection in intelligent and inventive ways, finding a good combination of resource types and creatures which compliment each other for attack and defense.
The Aspects of Dreamblade
The players of Dreamblade are called "Dreamlords", a term we promise to never ever again use, as to call yourself a dreamlord is to demand that someone bigger provides you the service of a wedgey and his pours beer over your head.
So the PLAYERS of Dreamblade have four main flavors of dreams chose from. 'Valor' creatures are your hearty protector and cunning types. The creatures of Valor are not as strong or immediately dangerous as others but they're full of vim and vigor. They either have an intelligent plan on the best way to manipulate game mechanics, or an ego which makes them believe that the hardships and problems in life should fall upon them.
Next up are the creatures of 'Passion'. In contrast to their Valorous counterparts, the passionate are potent up-front but lack direction and grounding. Passionate creatures usually lack focus and do their most effective thing en mass instead of targeting a specific weaknesses or ability.
Balancing these two somewhat more pleasant dream aspects are two darker ones. These are the dreams the come only after watching snuff films and eating a bucket full of Twinkees right before bed. The 'Madness' aspect has creatures that easy to push aside but very hard to get permanently get rid of. Their creatures also seem to have an affinity for ranged attacks, smacking against your noggin from all directions.
Finally the aspect of 'Fear' likes to overwhelm an opponent with superior numbers. Also, their creatures frighten the bejeebus out of everything causing them to curl in a corner crying home to mamma instead of using their own special abilities for constructive endeavors. Creatures of Fear don't like to go into close combat until after their target is cowering in a pool of its own fluids. Yum.
The Board
Players sit at the 5x5 game board so that their opponent faces them in the far corner. The column furthest to the right is consider the player's home column, and it's here that players can spawn their creatures starting on turn 1. Over the course of a game Creatures will move to various scoring positions on the board -- and at the end of the turn players tally up how many points they've scored. The player with highest score wins the turn. The first player to win six turns is the gane's victor.
Note that board is turned so that each player has a separate list of scoring positions on the board. As a player, your scoring positions increase in value the closer they are to the opponent's Home column. The same is said of your opponent, who can score more points for controlling squares closer to you. In this way, the game deliberately places the most potential gain as close to the defender's home column as possible, making it easily defensible. A butting of heads is inevitable.
Players also have the ability to spawn creatures within any column they have occupied by a creature, so long as the two creatures share the same aspect. If the player controls a fear creature in column three, for instance, then when he spawns another creature he can either chose: a creature of a different apsect and spawn it in his home column, or he can chose to spawn a Fear creature in Column 3. In this way players can maintain a presence in portions of the board, and either spawn in backup for support, or attempt to create multiple presences across the gameboard with other aspects or creature groups.
It's all very interesting stuff. The board complexity keeps things a lot more involved, and will probably usher movement and positioning into the game in ways that games like Anachronism didn't quite pull-off.
We keep hearing references as to how Dreamblade is Magic the Gathering meets Chess, but we don't think it goes that far. You won't be staring at the board for ten minutes trying to plan five moves ahead in a game of dreamblade. The board isn't stacked with the same stock of units as your opponent - it's far more dynamic, and you're not fighting to take down a specific pieces, but fighting for board dominance. We like to think of Dreamblade as "Magic the Gathering meets Miniatures and Spatial Movement", but that sounds lame. So don't repeat it out loud. Thanks.
Anyway, we're not going to dive into a rules analysis, or explore the slew of Dreamblade creatures (at least not this week). This was only meant to be a Dreamblade summary. If you've ever caught glimpses of Dreamblade and thought "What the heck is that about?", then hopefully we've quenched some of your curiosities.
If you're looking for more info then check the official Dreamblade website, or even the game's offical rules [pdf].
Dreamblade is available in stores now in the form of 16 Piece Starter Sets, and in booster packs of 7 miniatures.
Read More in: Collectable Card Games
Share this Article with others:
Related Articles:
Came straight to this page? Visit Critical Gamers for all the latest news.
Posted by Critical Gamers Staff at August 18, 2006 3:26 PM