Dreamblade Demo from Wizards of the Coast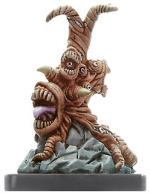 We have to be honest with you - the collectible miniatures game Dreamblade was announced quite a while ago by Wizards of the Coast, but we haven't covered it much here. The main reason is becuase Wizards of the Coast hasn't released many beefy yet specific details about the game, but instead released images of their miniatures. They look great, but that's the catch - was this game just going to be eyecandy?
When Dreamblade was first announced we heard reports that the game plays like chess , and then not a few days later we get reports that those people are insane, and the game plays more like Magic: The Gathering meets the tactical Anachronism CCG. Turns out that these later people seem to have their head screwed-on straighter. You can see for yourself. This online demo walks you through a few turns of gameplay. Dreamblade is shaping up into something pretty unique.
Now, although the demo is a positive step forward from Wizards, it does have some faults. For instance, when you hover your mouse over a unit the demo provides details about the unit's casting cost, attack values, etc, but these values are denoted by icons instead of text. If you don't know a thing about the game, then you certainly haven't a clue what each of the icons means (a spiral squiggly means my brainchomper has a 17 what?). The demo also asks you to select units with a casting cost of 9, yet none of these icons have a 9 next to them, and none of the icons scream "casting cost" symbology, either. It's a bit frustrating, but if you guess wrong the demo will push you in the right direction.
There are other things, too, like the lack of an explanation of defense values, special combat dice, etc. So for a tutorial, the demo falls short in some areas, and we hope that Wizard of the Coast doesn't treat the final product so carelessly. But in the end, the demo shows the game board in all its tactical glory, which is something we've been looking forward to for quite a while.

Read More in: Collectable Card Games | Gaming News
Share this Article with others:
Related Articles:
Came straight to this page? Visit Critical Gamers for all the latest news.
Posted by Critical Gamers Staff at June 20, 2006 12:51 PM