Battlestar Galactica CCG - New Article and Official Rules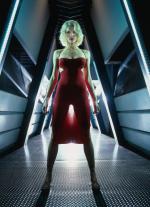 Some great stuff coming out of the official Battlestar Galactica Collectable Card Game website.
First up is a new feature article "Challenging your Opponent in the Battlestar Galactica CCG". If you pay close attention to life then it might have hit you the blond reporter on BS:G is Xena Warrior Princess. If you're playing even closer attention then you might also realize that has absolutely nothing to do with anything. That's exactly why you've gotta keep on your toes -- Cylons are a tricky lot, and if you spend too much time sidestepping the closed fist flying at your face then you might overlook that Cylon basestar which warped in behind you. It just launched a nuke straight-up your tucus. Ouch.
Confused? Read "Challenging your Opponent in the Battlestar Galactica CCG"; it'll clear some things up for you.
We're also treated to another new BS:G CCG Oracle: Wizkids has released a digital version of Official Rules booklet (pdf) that will ship with the game. Sure it's drier than the standard feature article treatment, but hey - short of a game demo, you can't get a better grasp of how fun a game will be.
Oh baby, we're definitely getting close to launch.
Read More in: Collectable Card Games | Gaming News
Share this Article with others:
Related Articles:
Came straight to this page? Visit Critical Gamers for all the latest news.
Posted by Critical Gamers Staff at April 17, 2006 11:21 AM