Battlestar Galactica CCG "Betrayal" Expansion Released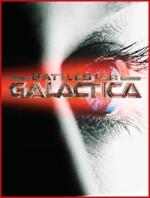 The Battlestar Galactica Collectible Card Game has recieved its first expansion this week. "Betrayal" extends the BSG CCG plot line through the show's first season, starting with the initial cylon attack on Caprica on through to Starbucks' covert commando operations to acquire the Arrow of Apollo. We realize that sounds wicked dorky, but hey - BSG is one of the best shows on TV, so you probably already know what we're talking about.
Unfortunately the WizKids website seems to be a bit clunky these days, and the index to Betrayal's preview articles isn't anywhere to be found. But we can at least forward you to the latest two previews: "The Good Guys" takes a look at three personal cards in the new set, and "Strafe" breaks down three pieces of the fleet's military equipment. Here's the official word:
The Company Line: "Betrayal, the first expansion for the Battlestar Galactica collectable card game (CCG), is now available in hobby and game stores worldwide. Betrayal adds 165 new cards to the BSG CCG universe, and expands on the exciting intrigue and action introduced in the first Battlestar Galactica CCG set.

Each Betrayal Booster Pack contains 15 cards (11 common cards, three uncommon cards, and one rare card). The Betrayal expansion also features 500 hand-autographed, rare Crewman Cally cards, signed by actress Nicki Clyne. The promotion features mail-in cards randomly found inside Boosters that players and collectors can send in to receive the signed cards."
Boosters for the Battlestar Galactica CCG expansion "Betrayal" are on sale now at IconUSA for the cheap.
Read More in: Collectable Card Games | Gaming News
Share this Article with others:
Related Articles:
Came straight to this page? Visit Critical Gamers for all the latest news.
Posted by Critical Gamers Staff at November 10, 2006 8:36 AM