"Axis & Allies Miniatures Contested Skies" Released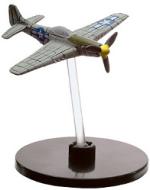 The collectible game Axis and Allies Miniatures expands this weekend with 45 new units in the new "Contested Skies" booster series. The main focus is on the main fighter and ground attack aircraft of WWII: The United States receives the P-51D Mustang (of course), the Soviet Air Force - the IL-10 Sturmovik, the Germans get both the JU 87G Stuka diver bomber and the Bf109E fighter, and the Japanese receive the Mitsubishi A6M Zero.
The expansion includes ground forces for each these factions, and more (!), including the lumbering French bathtub Char B1 tank, and various anti-aircraft guns and vehicles. The official website has a complete Gallery of the 45 miniatures which make-up the set, and also lists each piece's rarity (note: all aircraft are 'rare').
The Contested Skies expansion ships in the form of booster packs, which are on sale now.

Read More in: Board Games | Collectable Card Games | Gaming News
Share this Article with others:
Related Articles:
Came straight to this page? Visit Critical Gamers for all the latest news.
Posted by Critical Gamers Staff at March 26, 2006 2:32 PM