A Game of Thrones CCG - Winter Preview Trailer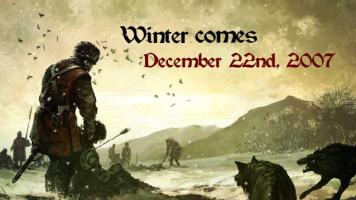 Fantasy Flight games has setup a
slick teaser trailer
comprised of fantastic art stills for the upcoming
Winter Expansion [Amazon]
their strong running A Game of Thrones Collectible Card Game. The CCG is based on
Song of Ice and Fire series
of fantasy books by author George R.R. Martin. And we like them a lot.
The trailer for Winter doesn't provide many details but definitely sets the theme for the upcoming release. We're a bit confused by a countdown timer on the trailer that's hinting that more details will come on the upcoming expansion on December 22nd, but many shops already claim the set has been released to stores. Go figure.
Here's the text of the trailer in case your lazy, formatted in poetic centered italicized text form. Unfortunately it's not a Haiku, but hey - they can't all be winners:
It has been five years Of ice and fire.

Now, a white silence
falls across Westeros

Something moves in the North
In the East
Soon all will be revealed

Winter Comes
December 22nd, 2007

Prepare yourself
Nothing will be the same.
Read More in: Collectable Card Games | Gaming News
Share this Article with others:
Related Articles:
Came straight to this page? Visit Critical Gamers for all the latest news.
Posted by Critical Gamers Staff at December 12, 2007 10:29 AM