Magic The Gathering 10th Edition Hits Stores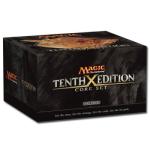 Wizards off the Coast has released Magic The Gathering 10th Edition [Amazon,Funagain] - the latest installment of the granddaddy of Collectible Card Games. Yes, that's right the tenth edition, which makes us feel so very, very old.
Every two years or so Wizards of the Coast audits their catalog of Magic cards throughout the ages and brands a selection of cards (around 350 or so) which best represents a balance of Magic the Gathering in its entirety. These Edition sets are based on cards from ages past, but incorporates some cards from the latest and greatest sets released over the last two years. The 10th Edition now forms the backbone of tournament play, and if tradition serves, it'll form a stylistic foundation for the new expansions coming down the pipe the next few seasons.
Now - we have to be honest with you: we really liked the Ravnica block, but we were a disappointed with last year's Time Spiral and Coldsnap releases. A major draw for us are the themes of the cards which are usually set deep within Magic sets, but Time Spiral smelled too much of recycled material to keep us enthusiastic. That, and the World of Warcraft TCG entered the scene with all new content and a streamlined system – it was an easy decision to choose the WoW golden nugget over the leading brand in TimeSpiral.
But with Magic the Gathering 10th Edition we are willing to wipe the slate clean. Here's hoping for some more exciting release when Magic the Gathering heads back to its standard Fantasy roots with Lorwyn this October.

Read More in: Collectable Card Games | Gaming News
Share this Article with others:
Related Articles:
Came straight to this page? Visit Critical Gamers for all the latest news.
Posted by Critical Gamers Staff at July 18, 2007 3:34 PM