Settlers of Catan 4th Edition - Save $15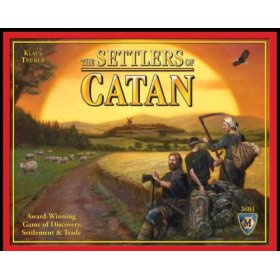 We know that you know about Settlers, but you can get the 4th edition for less than $33 bucks right now at Amazon. That will save you over $15 bucks in board game money for the month.
One of the most successful games of all time, Settlers of Catan is a trading and building game set in the mythical world of Catan. Players roll dice to determine which resources are generated each round and then must strategically trade those resources with other players to get what they need to build their settlements, cities, and roads. With multiple ways to gain victory points and a board that changes in every play, Settlers of Catan is a game that can be played hundreds of different ways. The base of a hugely successful franchise, with multiple engaging expansions, Settlers is the core game of many collections, and is a wonderful way to spend time with family and friends.
At The Settlers of Catan - New 4th Edition
Read More in: Cheap Deals & Sales
Share this Article with others:
Related Articles:
Came straight to this page? Visit Critical Gamers for all the latest news.
Posted by Blogpire Productions at January 29, 2008 4:24 PM