Rubik's Cube Coffee Tables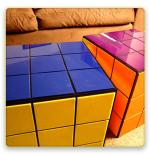 Gizmodo has a great find on a set of Rubik's Cube Styled Coffee Tables.
These things don't shift and twist like the true game, but they're certainly the spitting image. Best of all, they're available for purchase online! Jellio, the creator of the table, has some other freakin' cool things they've dipped into vats of acrylic, including a "Light Table" very reminiscent of a giant Light Bright, and a series of coasters made from laminated ViewFinder discs. Sweet.
You can never go wrong with ViewFinder discs.
Read More in: Cheap Deals & Sales | Variants
Share this Article with others:
Related Articles:
Came straight to this page? Visit Critical Gamers for all the latest news.
Posted by Critical Gamers Staff at March 10, 2006 11:00 AM