New Releases - The Week of February 24th
Harry Potter makes a late Winter appearance this week, and Funagain restocks their shelves with Blokus and a remake of an old Roman War classic from Eagle Games.
*
"Scene It?" released a Harry Potter edition of their popular line of DVD trivia games, and Amazon has it for the cheap. Man, Scene It? is on a serious roll.
The Company Line: Features questions and puzzlers from one of the most popular movie franchises in history! Includes real clips and content from the first four Harry Potter movies as well as Harry Potter and the Goblet of Fire. Includes a themed Flextime game board which enables players to choose the length of gameplay, high quality Harry Potter themed metal movers, oversized dice, 160 trivia cards, 30 Harry Potter themed Buzz cards, and a DVD with patented Optreve technology unique to Scene It? so you can play again and again without seeing the same questions repeatedly. For two to four players.
*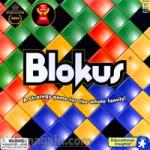 Funagain Games have restocked their shelves with critically acclaimed Blokus, and at a price 5 bucks cheaper than Amazon's listing. Nice work!
The Company Line: "Develops logic and special perception while kids learn to be tactical. Players take turns placing pieces on their board, each starting from their corner. Each new piece must touch at least one other piece of the same color, but only at the corners! The goal is to get rid of all your pieces. The game ends when all players are blocked from laying down any more of their pieces. Includes one gameboard with 400 squares, 84 game pieces in four bright translucent colors, and an instruction guide. "
*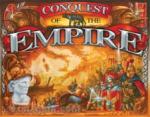 Also back at Funagain this week is Conquest of the Empire. This is great remake of the original Milton Bradley's Game Master Series version from 1984, and with Roman History more popular that ever, how could you go wrong?
The CL: Do you have what it takes to become the next Emperor of Rome? It is the 2nd century AD and the 200 year Pax Romana of Augustus Caesar has come to an end. With the death of the Philosopher-Scholar Emperor Marcus Aurelius, the Roman Empire is without a competent leader. Disorder reigns and civil war looms. Mars will * be pleased. It is a time for war. It is a time for Conquest of the Empire!
Read More in: Cheap Deals & Sales | Gaming News
Share this Article with others:
Related Articles:
Came straight to this page? Visit Critical Gamers for all the latest news.
Posted by Critical Gamers Staff at February 24, 2006 1:33 PM