Board Game Holiday Shopping Steals at Amazon.com: Settlers of Catan, Axis and Allies, Carcassonne, and More!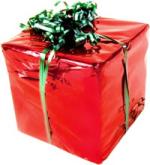 If you've spent the holiday weekend feasting on left-over sandwiches of Turkey and stuffing, and dozing on the couch in front of an endless parade of football, then you might have fallen a bit behind in your holiday shopping duties. Face it - the day after Thanksgiving is a day that plays host to some obscene shopping sales, but nobody in their right mind wants to plow through droves of anxious consumers at their local commercial mega-malls.
Instead, play it smart - sit back and relax - and check out these sweet deals at Amazon:
Also be sure to checkout our Holiday Shopping Guide for other holiday gift ideas.
Read More in: Board Games | Cheap Deals & Sales | Collectable Card Games
Share this Article with others:
Related Articles:
Came straight to this page? Visit Critical Gamers for all the latest news.
Posted by Critical Gamers Staff at November 27, 2006 6:36 AM