Eye of Judgement Sale at Amazon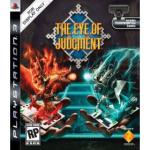 Most of you should be familiar with the The Eye of Judgement [Amazon] when we wrote about the game a few weeks ago, but here's a quick referesher incase you forgot. The Eye of Judgement is a PS3 Trading Card Game that uses "Augmentented Reality" technology, which is wizz-bang marketing rhetoric for a visual code on your cards that unlocks in-game cards with the use of the game's camera. The end result: a physical collection of cards mixed with visual battle royale of animated creatures and spells duking it out on your giant TV.
Well good news this daylight savings morning: the game has come down in price, by a lot: Amazon discounted the Eye of Judgement to just $47.00 American. That includes a base set of cards, the camera that is 'The Eye' and a booster pack, marked down 33%! Quite the sweet little deal for those who've been drooling over this somewhat price game since October.
Here's the official details: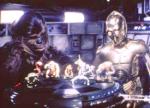 "Developed by Sony Computer Entertainment Worldwide Studios, JAPAN Studio, The Eye of Judgement presents a new style of gameplay where collectable trading cards, embedded with a CyberCode, are brought to life in the 3D game through use of an innovative "9 Fields" battle mat and Playstation Eye. Players compete by selecting a card and placing the coded card in front of the Playstation Eye for their respective creatures to come to life and battle on screen. Players take turns placing cards as they jostle for control; the winner is the first player to conquer five of the nine squares of the "9 Field. Players have four ways to play The Eye of Judgement: single player against their PS3, against an opponent in two-player mode, against an opponent online, or letting the PS3 play out a round with the cards the player owns. The Eye of Judgement comes with a starter deck of 30 character and spell cards manufactured by Hasbro. Pre-constructed decks and booster packs, sold separately in stores, can be purchased to strategically build the perfect deck using the 110 cards unique cards available. The Eye of Judgement is a socially engaging title that will appeal to gamers of all ages and abilities More than 100 different characters and spells will be offered via additional booster packs and pre-constructed decks, available at major retail chains. ESRB Rated T for Teen"

Read More in: Cheap Deals & Sales | Collectable Card Games

Share this Article with others:

Related Articles:

Came straight to this page? Visit Critical Gamers for all the latest news.

Posted by Critical Gamers Staff at March 10, 2008 1:10 PM