Cyber Monday and Holiday Board Game Discounts: Buy.com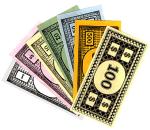 The online mega store Buy.com is running a sale on select board games and toys, with some titles up to 60% off.
The sale includes nearly 150 items, including new games and old American classics like Monopoly, Scene It?, Sorry, Life, and titles from the Cranium Series. No Eurogames for dinner parties and the elder generations (except for Scene It?), but some great discounts for those classic family games we all grew up with.
No coupon codes required. Have at it!
If you're looking for more gift suggestions the please also checkout our own 2007 Critical Gamers Holiday Gift Guide.



Read More in: Board Games | Card Games | Cheap Deals & Sales | Party Games
Share this Article with others:
Related Articles:
Came straight to this page? Visit Critical Gamers for all the latest news.
Posted by Critical Gamers Staff at November 23, 2007 2:31 PM