3D Settlers of Catan Giveaway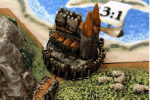 Throughout the month of March, Funagain Games is collecting raffle entries for their $400 3D Settlers of Catan giveaway. This version comes with a slick wooden box to crown your bookshelf, and has some seriously well crafted pieces. Look at this thing! Cities are nestled between mountains and plains of wheat. Forest actually look like.. forests!
One of our problems with the standard version of Catan is that the terrain types aren't visually consistent with the design of the resource cards, and that's pretty confusing for new players. Well that's definitely fixed in the this version. Catan has never looked this vibrant and alive.
Purchase any MayFair Games (the publisher of Catan) title from Funagain's website to enter the raffle through the month of March. Considering the eleven-pages of MayFair's titles - that really shouldn't be a problem.
Read More in: Board Games | Cheap Deals & Sales
Share this Article with others:
Related Articles:
Came straight to this page? Visit Critical Gamers for all the latest news.
Posted by Critical Gamers Staff at March 7, 2006 7:04 PM