WoW TCG: Hunt for Illidan Preorder Deals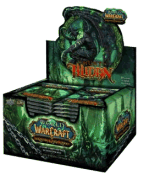 It's the eve of July first, and truck fulls of the WoW TCG set expansion The Hunt for Illidan [Amazon, ToyWiz] are on the verge of shipping to excited card players across the world.
Now - a box of boosters is MSRPed for 96 bucks at the official Upper Deck Store. No offense Upper Deck, but that's crazy talk.
We were about to write to you about a sweet deal at StarCityGames where a box of boosters was at $59.99. Unfortunately that was when they still had 250 boxes in stock. Now that they've sold off 200 of them the prices has shot up to 69 bucks. Still not to shabby when comparing to some of the other mainstream stores out there - like this deal at Amazon.com or at ToyWiz.
Thankfully we ran into a similar deal at AnimeOC.com. They're selling boxes of Hunt for Illidan boosters for 59.95, and at price like that then it's probably for the short term. Get on it!
Read More in: Card Games | Cheap Deals & Sales | World of Warcraft TCG
Share this Article with others:
Related Articles:
Came straight to this page? Visit Critical Gamers for all the latest news.
Posted by Critical Gamers Staff at June 30, 2008 2:34 PM