Warhammer: Invasion LCG First Details

Some more information has been posted about the upcoming Warhammer: Invasion Living Card Game announced earlier this month. The preview article "The Invasion Is Coming" doesn't yet start breaking down the detailed rules, or card types, or anything that partciular and juicy, but sets the expectations of what this LCG product line will look like over its life time.
The game will ship with a core set that has decks for 4 different races on the side of Order (Dwarfs & Empire) and Destruction (Orcs & Chaos). The core set will include cards for both the High Elves and Dark Elves, too, but these guys won't receive a full showing until a later expansion down the road. The core set will also include all of the play materials for each of the four races, and enough materials for 2 players.
What sort of materials? Well the game isn't like Magic the Gathering or WoW TCG where players simply play allies and spells to beat the living snot out of each other. Instead this game combines those elements with elements of the old Lord of the Rings CCG, where players expand their kingdom, its economy, etc, all being tracked on a series custom of boards and pieces laid before each player. Here's some of the skinny on why the designers chose that path: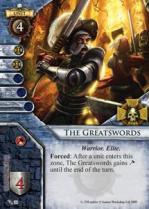 ---

Although the goal of the game is quite clear and exactly what you'd expect (burn down your opponent's capital), I wanted players to have more to worry about than simply massing troops to kill each other. You need to defeat your opponent, but have to worry about managing your own kingdom while you're at it. If you don't have enough resources to build an army, you can't win. And if you can't have your units complete quests, you won't be able to draw enough cards to give you the options you need.

Of course you want to do all of these things, but therein lies the dilemma: which careful balance do you want to strike in order to defeat your opponent?"

- The Invasion is Coming

---
So you have the base set of cars, that includes 4 different decks to play with. Then what? Well in the Living Card Game fashion, each month will see new, 'cheap' injection of cards that will update your collection, tell more of the overarching game's story, and add new mechanics to the game. Traditionally these packs sell for around 10 bucks, and deliberately include every single card so there's no wasted money pinata hunting for epic rares.
One last major thing of note: the game is designed around 2-Players for the start, and it won't ship with any multiplayer rules out of the box. This is a bit of a let down - our TCG nights always become cumbersome when an odd number of players show up to the table, and we'd love to see one of these new-fangled card games break that legacy problem. Instead they keep making the same mistake.
Still, the game looks very promising, and we're going to continue following the details as the emerge. Warhammer Invasion is slated for a release later this year.
Read More in: Board Games | Card Games | Gaming News
Share this Article with others:
Related Articles:
Came straight to this page? Visit Critical Gamers for all the latest news.
Posted by Critical Gamers Staff at July 23, 2009 4:58 PM