Some Dominion Alchemy Teasers Hit the Net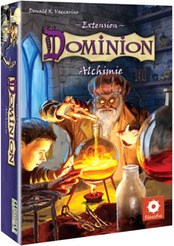 BoardGameNews.com has word that the Candian publisher for Dominion has posted a preview about the upcoming Dominion expansion.
Called "Dominion: Alchemy" the new set will contain a smaller set of cards than we're used to (12). Apparently this smaller expansion is a move to appease some of the international publishers who figured their customers would rather purchase a smaller set of cards instead of expansion the size of a standard main set. Why? We haven't the faintest clue.
But don't be too worried, more details were posted to Board Game Geek by the game's designer Donald Vaccarino who quickly stated that the franchise will receive some more large boxed expansions, too. And he even hinted that the franchise has the legs to least a few more years. Excellent.
From the BoardGameGeek Forums:

---

"We are still doing 300-card sets as well. The expansion after Alchemy is the normal, larger size. If I had to guess I would say we'll alternate sizes for a few years, but nothing is set in stone past the expansion after Alchemy. I think that expansion may be announced at Nuremberg, so we'll leave that one alone for now."

---
Also based on a translation of the French gaming site Tric Trac, we should see the Alchemy 'small expansion' hit the shelves in the spring. We can't wait. More - and hopefully interesting - Dominion content with new mechanics is something we'd love to have kickoff the new gaming season once things ramp up again after the holiday hangover.
We'll keep you posted of more details as they emerge.

Read More in: Card Games | Gaming News
Share this Article with others:
Related Articles:
Came straight to this page? Visit Critical Gamers for all the latest news.
Posted by Critical Gamers Staff at February 8, 2010 6:10 PM