Illuminati: Bavarian Firedrill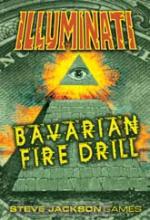 The release of Bavarian Firedrill [Funagain] this week marks the first expansion to the classic Illuminati [Amazon, Funagain] card game from Steve Jackson Games in three years.
We were quite the fans of the dark humored game full of liars and backstabbers when it was re-released in the Illuminati Deluxe Edition just as we were exiting college. At that time we full of vim and vigor - we were raring to take on the sinister puppet masters of the world economies and social movements, and drink beer, and Illuminati totally played into our egotistical lifestyles. We haven't picked it up in a while, but now it seems time to dust it off.
Bavarian Firedrill updates the game to make it more appropriate for the later years of current decade. The frankenstien monster that is FEMA is now a gropu, so are Bloggers and a new gameplay mechanic of scientific and religious artifacts enters the scene. Here's the company line:
"Control new and terrifying groups like Bloggers, Reality Shows, and Intelligent Design. Will you use Embedded Reporters and FEMA to destroy the Webcams, or will you be defeated by Bird Flu and Bobbleheads? Fans of the mega-hit INWO will recall the Deprogrammers and Science Alarmists, as well as more of the best groups from the best-selling conspiracy CCG. BFD also introduces a new kind of card: Artifacts! Some are magical, some are technological, some are just... strange. But all of them give their owners an unfair advantage in the struggle for world domination. Hitler's Brain, the Spear of Longinus, the Screaming Meme and these are just the beginning. Bavarian Fire Drill. You know what it means, but your cover demands you pretend not to... "

Contents:
Illuminati: Bavarian Firedrill
is now shipping from
Funagain Games
.
Read More in: Board Games | Card Games | Gaming News
Share this Article with others:
Related Articles:
Came straight to this page? Visit Critical Gamers for all the latest news.
Posted by Critical Gamers Staff at October 12, 2007 2:10 PM