Designer's Breakdown of Dominion Alchemy Cards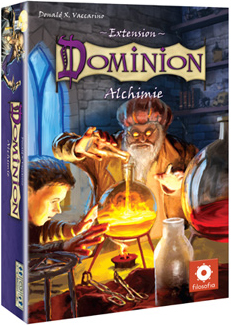 We like 2008's Dominion. Heck, we'd even say we love Dominion. It remains both the breakout game of the deck building genre, and also the leading franchise, too. Approachable, fun, deep, and extraordinarily repayable. And we're now on the eve of the launch of Dominion's third expansion: Dominion Alchemy. We're giddy with delight.
So what better treat than to read a preview of the new set's cards? How about one that's written by the game's designer himself?
And here it is: Donald X. Vaccarino's "The Secret History of the Alchemy Cards" post in the BGG forums.
Now the post goes into the nitty gritty details about the history of the Dominion franchise, including how it came to be, how it was broken into expansions, and why we're starting to see mini expansions instead of full fledged sets (blame some of the game's publishers). If you want to skip all that then just scroll down to where you start seeing the bold card games. Once there you'll get right to the nitty gritty details of what cards to expect, how they'll play with each other, and how they'll fold in mechanics of the existing sets.
We can't wait to get our hands on Dominion Alchemy. Some lucky ducks have found a few copies in their local gaming stores. If you act quick you might even be able to nab one. If not, we expect a full shipment to hit the major stores next month.
Read More in: Card Games | Gaming News
Share this Article with others:
Related Articles:
Came straight to this page? Visit Critical Gamers for all the latest news.
Posted by Critical Gamers Staff at May 10, 2010 4:55 PM