Zooloretto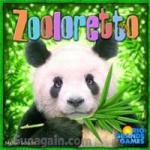 Zooloretto [Amazon, Funagain] is a family-friendly board game title from Rio Grande Games where players compete to expand zoos and their respective collection of colorful animals contained within. The game is approachable and easy to pickup, while also remaining strong in the gameplay department. Zooloretoo strikes a balance of being fun for broad spectrum of gamers, from youngins who love fluffy zoo animals, to more serious gamers who'll find enough substance here to massage their brain between sessions of more complex board game titles.
The fact that the title hits the mark with such a large audience has led it to win the Spiel des Jahres (German Board Game of the Year) award for 2007, joining quite a prestigious list of historic favorites such as the Settlers of Catan, Ticket to Ride, and Carcassonne.

Official Literature
"Each player uses small, large, wild and exotic animals and their young to try and attract as many visitors as possible to their zoo. But be careful -- the zoo must be carefully planned. Before you know it, you have too many animals and no more room for them. That brings minus points! Luckily, your zoo can expand.

A zoo of a family game in which less is sometimes more...

"
Reviews

Game Info [Official Website]

Players: 2-5
Ages: 8+
Playing Time: 45 minutes
Designers: Michael Schacht
Contains:

5 Zoos
5 Extensions for the zoos
128 tiles
5 wagons
30 coins
1 wooden disk
1 rulebook
Read More in: Board Games
Share this Article with others:
Related Articles:
Came straight to this page? Visit Critical Gamers for all the latest news.
Posted by Critical Gamers Staff at June 25, 2007 12:37 PM