Zontik Games' High End Game Store Relaunches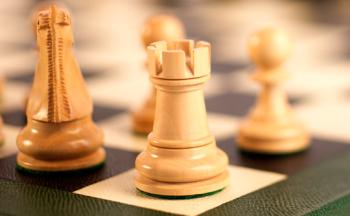 We live in the city - Boston actually - and though we aren't scraping the bottom of the corporate food chain, we're not exactly living in luxurious folds of space either. Many of our apartments are small, and have no storage so we must remain very utilitarian with the space we have.
But if we did live in the suburbs, or maybe in a region of the country that wasn't built on a 19th century landfill, and that actually didn't have basements that flooded when it slightly mists outside, then things would be a lot different. Our living room would sport two nice leather backed chairs and a chess board table with room for scotch on both sides. We're talking about the type of high quality set that abuts an old wooden globe , where the back wall would be stacked with well-bound books we've never read, and where Gentlemen retreat to carve up the world via games and politics.
Zontik Games makes these kinds of things. High-end gaming products of your favorite titles, like high quality chess sets, poker sets, or crafted wood versions of Scrabble, and the best looking Pentanque (Boule) set this side the Bay of Biscay.
We've mentioned Zontik a few years ago, and we're visiting writing again because they just relaunched their website, and they have even more high end gaming products. They also now offer a service called Custom Deluxe. where "people customize games by picking their own materials and designs," including "leathers, rare materials, precious stones, or any other thing a customer's heart desires." We're thinking a set of dice crafted from a handful Tunguska meteorites would add a tasteful edge to our gaming.
Their relaunch is worth checking out. Don't let the sticker shock scare you -- you get what you pay for.
Read More in: Board Games | Gaming News
Share this Article with others:
Related Articles:
Came straight to this page? Visit Critical Gamers for all the latest news.
Posted by Critical Gamers Staff at January 18, 2009 6:39 PM