Xbox Live Eurogame Screenshots
Last week we reported that the Xbox Live service was going to launch three Eurogames for your Xbox 360 gaming pleasure: Settlers of Catan, Carcassonne and Alhambra. At the time we had no media to share with you of the upcoming releases, but some images have been leaked to the net (thanks to Ozymandias) and without further ado, here they are! (click the images to enlarge them.)
Settlers of Catan [Amazon,Funagain]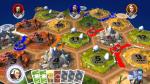 "The Catan series is one of the best-selling and most widely played game lines ever developed. Over 11 million Catan games have been sold since the brand's debut in 1995. Millions of people will testify that it is one of the greatest games ever! Then try one, or even combine, its many expansions. Some let you explore new aspects of the game. Others let you add more players.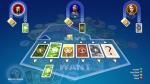 The "Game of the Year" in Germany, the U.S, and a host of other countries, The Settlers of Catan is a classic, stand-alone game for 3-4 players. You journey to the unsettled wilds of the grand new world known as Catan. It's an exciting frontier, one rich in opportunity. No place could be more perfect for casual adventure. Compete with your opponents to discover and settle the choicest lands and seaports. Gather resources, trade with friends and foes, and build roads and settlements—all in a quest to be master of Catan.

Catan is a little different every time you visit. You'll always find it a land full of intrigue and surprise. Careful trade and clever building are your keys to success. Plenty of fast-paced player interaction is guaranteed. Win or lose, adventure always awaits in Catan!" From MayfairGames.com


Carcassonne [Amazon,Funagain]
The southern French city of Carcassonne was founded on an important trade route between the Mediterranean and the Atlantic. Because of its strategic location, the city was often conquered and has known many rulers. As a result of this varied history, the city is famous for its unique mixture of Roman and Medieval fortifications.

The players develop the area around Carcassonne by placing land tiles. Each turn the area becomes larger as the players expand and add roads, fields, cities, and cloisters. The players may also deploy their followers as thieves, farmers, knights, and monks to control and score points for the roads, farms, cities, and cloisters. As the players have only a few followers, the wise player will plan his moves carefully and deploy followers when and where he can earn the most points.

Carcassonne is a simple, clever tile laying game that brings new challenges with every turn.


Alhambra [Amazon,Funagain]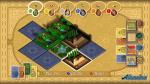 In Granada, one of the most impressive building projects of the Middle Ages has begun: the construction of Alhambra. A palace, fortress, and a small city -- all-in-one -- Alhambra is made up of the world's most beautiful gardens, pavilions, chambers and towers.

The most prominent builders in all of Europe and Arabia want to demonstrate their skills. Employ the most talented teams of builders to construct your Alhambra. Hire stonemasons from the north and gardeners from the south, who all want a fair wage and insist on being paid with their native currency. With their help, towers can be constructed, gardens designed, pavilions and mezzanines erected, and manors and royal chambers built. Compete against your opponents to build the greatest and most impressive Alhambra.
Read More in: Board Games | Gaming News | Variants
Share this Article with others:
Related Articles:
Came straight to this page? Visit Critical Gamers for all the latest news.
Posted by Critical Gamers Staff at August 28, 2006 10:48 AM