Xbox Live: Catan Interview on Joystiq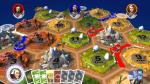 We've sat back and enjoyed a scotch and a Valium since posting our frustrated article last week about the delay of Catan, as in the Settlers of. It turns out that there's already a new date set for the release of the new Xbox Live title: sometime in March '07.
Honestly, though, the reaffirmed release date isn't what calmed us down. It's more about the exciting details revealed in the Joystiq Interview with Big Huge Games' CEO Brian Reynolds. As it turns out, Brian is a tournament player of Settlers of Catan, which of course means that this upcoming Live release will be done with love and enthusiasm for the original title. Also, Brian was handed a very in depth set of strategic data to serve as the foundation of Catan's Artificial Intelligence code, from none other than Settlers of Catan designer Klaus Teuber.
It's great to hear that Klaus had some significant hands-on contributions to the project.
So although we're a bit dismayed that we're not amidst office wars with Catan right now, at least our outlook of the game has changed for the better. We have a feeling this isn't just hype either: Catan might be the groundbreaking adaption that lays the groundwork for a slew of Eurogames to appear on the Xbox Live service. Cant' wait, and here's hoping!
Read More in: Board Games | Gaming Culture | Gaming News | Variants
Share this Article with others:
Related Articles:
Came straight to this page? Visit Critical Gamers for all the latest news.
Posted by Critical Gamers Staff at February 26, 2007 10:15 AM