World Without End Board Game Coming this November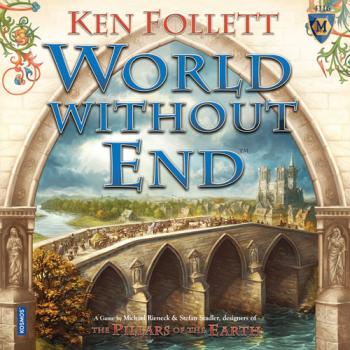 A sequel to one of our favorite games of 2007 - Pillars of the Earth - is in the works, and it's due out on American shores in under a month! Like Pillars, World Without End is based on the best selling novel by author Ken Follett. Instead of focusing on the construction of the 12th century fictitious cathedral at Kingsbridge, players control the lives of workers living in the now bustling town. Players will compete to gain influence in the town's thriving economy, placing workers in new good-production spaces, while also staving off nasty things, like you know... the Plague. Perhaps you've heard of it?
Here are the details straight from Mayfair Games:
---

England in the early and middle 14th Century

Journey to Knightsbridge, England, where 200 years ago Prior Phillip oversaw the building of the cathedral renowned as "The Pillars of the Earth." Now farmers, wool dealers, and builders seek wealth and prestige amidst a rivalry between the priory and merchants. As the plague reaches town, nothing remains as it once was.

World Without EndT is based on Ken Follett's best-selling novel. Strive to navigate turbulent events, ensuring and balancing your food supply, income, and prestige. Piety and loyalty remain vital, for you must cater to the upper classes. And precious medical knowledge is your greatest weapon against the Black Death. So, gather your power and spirit and rise above your rivals into legend!

---
The game is currently scheduled to ship near the end of November. We smell Christmas list! We'll keep you apprised of further details as we get closer to the ship date.
Read More in: Board Games | Gaming News
Share this Article with others:
Related Articles:
Came straight to this page? Visit Critical Gamers for all the latest news.
Posted by Critical Gamers Staff at October 16, 2009 4:55 PM