World of Warcraft Boardgame Reprint Hits Retailers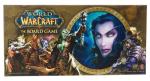 World of Warcraft The Boardgame (Fantasy Flight Games) was an immensely popular hit last year. Too popular, actually. Stores sold out of the game soon after its release, and Fantasy Flight's own inventory was stripped bare. The game has been quite a b... pain to get a hold of ever since (mainly it was exclusively available on the ebay auction hall).
But today Fantasy Flight Game's warehouses are chalk full of a second run of the game. Trucks are departing (as we speak) to bring additional copies World of Warcraft to retailers across the country. The folks at Funagain games have already listed their copies as available. Amazon is still bone-dry, but you should be able to order from Amazon here, once they get their shipments within the next few days.
The Company Line:World of Warcraft: the Board Game is a team-based fantasy adventure. The Horde and the Alliance factions must compete to be the first to defeat the invincible Overlord – be it the lich-king Kel'Thuzad, the dragon Nefarian, or the demon Kazzak – or, failing that, to be the last faction standing when it comes to all-out war. Battle opponents, gather treasure, and gain levels! Embark on quests to grow ever more powerful and compete to be the greatest hero in all the land. The epic World of Warcraft: The Board Game production will include gorgeously crafted components, including over 150 highly detailed, sculpted plastic figures representing the multiple races of the World of Warcraft. Players will be able to take the roles of all nine of the World of Warcraft classes, each with its own unique and fun talents and powers. The World of Warcraft Board Game is a massive production that will ship in FFG's signature Epic Style Box.
Read More in: Board Games | Gaming News
Share this Article with others:
Related Articles:
Came straight to this page? Visit Critical Gamers for all the latest news.
Posted by Critical Gamers Staff at February 27, 2006 5:10 PM