Ventures of Argent - Open Beta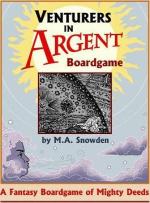 Ventures of Argent is a fantasy adventure board game currently available for free (in beta form) from the game's official website. We know what you're thinking - free board games tend to lack polish, but you'd be smacked-wrong if you applied that generalization onto Ventures. This game may be in black and white but it's gorgeous - the documentation is chalk-full of great content like flavor text, detailed maps, and great illustrations. The tangibles are on par with (if not surpass) most budget games out there, and it could show some premier titles a thing or two, too.
Players of "Ventures" create a group of 5 characters (called.. uh.. "ventures") who travel as a party through the regions of the game's world map. The venture group is free to explore various locales including towns, forests, and dungeons as they level up for the big boss battle at the end of the game. Movement on the main map might incur a random combat encounter (decided by a factor of location and the roll of the dice at the end of the turn). The game has a simple yet flexible combat system, complete with positioning and targeting mechanics, a damage and healing system, and item rewards.
Ventures of Argent is currently in open beta and is available to download for free(!) from the game's official website. The download (a .zip archive) contains a collection of printable Adobe PDF documents including the game map, character sheets and documentation (there's also collection of unit markers that you can print, cut-out, and fold, but we'd recommend that you stick with figures or tokens from another game until you've decided pursue that arts and crafts project). You'll need WinZip and Adobe Acrobat to open and print these files.
The game is meant for a a group of 5 friends to huddle around a table and play, but also has a solo mode and a campaign mode if you want to add persistence to your characters.
Finally, just inferring from the layout of the game's website, Ventures might be only one game in a series of titles that take place in the detailed World of Argent. We'll see if dig up any information on anything else coming down the pipe from designer M.A. Snowden.
Read More in: Board Games | Gaming News
Share this Article with others:
Related Articles:
Came straight to this page? Visit Critical Gamers for all the latest news.
Posted by Critical Gamers Staff at March 24, 2006 4:04 PM