Wits & Wagers: the next Xbox 360 Arcade Party Game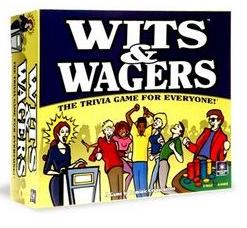 North Star Games today announced that their award winning triiva game Wtis and Wagers [Amazon, Funagain] is getting Xbox Live Arcade adaptation. Dubbed " the first trivia game can you can win without knowing any trivia", the Wits and Wagers gameplay centers around a player's ability to wager on which player suggested answer lands closest to the true answer to an outlandish obscure trivia question. The game is a cross between the opening bid round of the Price is Right and seven rounds of archaic Jeopardy questions, like "In what year were Boston Baked Beans first canned?" for instance. 700 of these questions are included, and chances are you don't know the answer to any of them, unless your some sort of obscure trivia Rainman.
The Xbox Live installment of Wits & Wagers has been marked as "Coming Soon." More information can be found on the Hidden Path Entertainment website, which is the company behind this console adaptation of W&W.
Overall we liked Wits & Wagers [our review] but felt the bits and pieces lacked luster. In fact they seemed downright cheap. The Xbox Live version of the game might fix this issue, but we fear the interface - which we haven't seen - could be somewhat cumbersome compared to the physical baseline. The joy of Holding and toying with poker chips and felt betting mats is always more fun in real life than in a simulated Xbox Live world, and for this overall simple title there really isn't anything gained by a computer overseeing the correct placement of the pieces and rules.
The product description includes notes about Xbox Big Button Pad support, which we believe is the same controller that shipped with the Xbox Adaptation of Scene It? trivia. A nice touch to keep up support with what seemed like a one-shot chincy item. Perhaps it will rise from the ashes and be the controller of choice for party games for hte next few years (until the next Xbox comes out in 2009..?)
Wits & Wagers is the fun trivia party game where you don't need the right answers to win! For each question, bet on the answer you think is closest to the truth, whether or not that answer is your own.

With up to 25 hours of unique questions, local and online play, plus the ability to link one group of local users to another group via "couch-to-couch" multiplayer, Wits & Wagers is a party waiting to happen.

Get 700 questions, great character costumes and dance moves, catchy music, achievements, leaderboards, support for the Xbox LIVE Vision camera, the Xbox Big Button Pad, and more.

Based on the award-winning board game of the same name, Wits & Wagers brings trivia and party fun to Xbox LIVE Arcade on your Xbox 360.

Key features:

Supports 4 local players or a total of 6 players online
Supports "couch-to-couch" multiplayer with more than one person in an online game per console
Supports the Xbox LIVE Vision camera
Supports the Xbox Big Button pad
Read More in: Board Games | Gaming Culture | Gaming News
Share this Article with others:
Related Articles:
Came straight to this page? Visit Critical Gamers for all the latest news.
Posted by Critical Gamers Staff at March 19, 2008 12:35 PM