Wired's Great Board Game Gifts for Geeks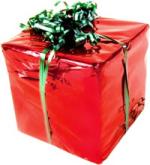 A lot of us here at Critical Gamers are tech savvy so we pretty consistently hold Wired in high regard. When the posted their Board Game gift guide for the Holidays we jumped to see how our gaming collections lined up.
Our very own Critical Gamers' Holiday Gift Guide 2007 and Wried Magazine's Great Board Game Gifts for Geeks (use "next image" to move to the next game) both have quite a few games in common, including:
Settlers of Catan - a no brainer as this title remains the gateway game of choice for introducing board games to a group. or the gateway game in the Eurogaming genre. It's also the best replacement for Monopoly, mimicking it's approachability and fun while trimming-off all the boring bits.
Wits and Wagers - a slick trivia party game where players bet how close everyone's answers are to some really outlandish trivia questions. The party game genre has stagnated a bit, but this title definitely breaths new life into the genre for 2007.
BattleLore - a tactical war game that made our list last year, but this ever expanding wargame system is still fresh and only getting stronger every month with new releases.
Not bad considering no New England breathing Critical Gamer has been in the same room as a Sunny San Franciscan Wired Employee, at least to our immediate recollection.
Read More in: Board Games | Gaming News
Share this Article with others:
Related Articles:
Came straight to this page? Visit Critical Gamers for all the latest news.
Posted by Critical Gamers Staff at December 17, 2007 9:09 AM