"Warrior Knights: Crown and Glory" Released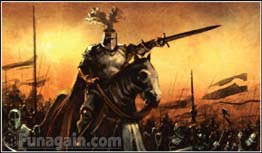 The first expansion to the 2006 revised edition of Warrior Knights from Fantasy Flight Games has shipped. Entitled "Crown and Glory" [Funagain] the expansion is somewhat modular in that it contains three ways to change the play of the game. The major beef of the expansion extends many of the existing mechanics, but the box ships with new optional twists to the end-game which can be mixed and matched with each other as players see fit. We're especially interested in the optional hidden-goal gameplay elements which drive players to indirectly compete to fulfill secret victory conditions.
For more information about the expansion please check out story from last week: "Warrior Knights: Crown and Glory Rules Posted", which should fill you in on all the nity gritty details. Here's the official line: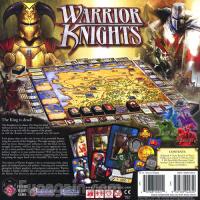 "In the war-torn land of Warrior Knights, the conflict is far from over. The new Crown and Glory expansion provides contenders to the throne with a multitude of new options, additions, and variants. In the Crown and Glory expansion, a player can actually become King and attempt to prove that he has what it takes to retain the crown! The Crown of Glory expansion also includes Mission cards, which provide players with new paths to victory.
The Crown and Glory expansion features over 200 new cards including:

New actions that provide mobility and versatility
Garrisons that help defend your cities
Town levies that support your armies
New specialized mercenaries
A larger Fate deck allowing for bigger battles and new combat and Fate results
New rules for mercenary Nobles, a new resource, and much more

The Crown and Glory expansion provides Barons with indispensable new resources and options for consolidating their hold over the realm of Warrior Knights."
The
Warrior Knights Crown and Glory Expanson
is now shipping from
Funagain Games
.
Read More in: Board Games | Gaming News
Share this Article with others:
Related Articles:
Came straight to this page? Visit Critical Gamers for all the latest news.
Posted by Critical Gamers Staff at May 22, 2007 4:35 PM