Warrior Knights: Crown and Glory Rules Posted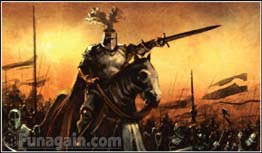 Fantasy Flight Games has published the rules to the upcoming
Crown and Glory
[
Funagain
] release, which will expand the revised edition of
Warrior Knights
released last year. The rules are in PDF form (what else?) and are available to download from the FFG website
here
[
pdf
].
The boxed expansion includes three different ways to alter the game, each is optional and can be mixed and matched with other two. The main expansion is called the "For the Glory" variant. It includes new Agenda cards, Event cards, Action Cards, well, new cards to supplement pretty much all of the existing decks in the game. Also included is a new technological Advancement deck with cards that provide your faction bonuses to movement, combat, etc. The Fate deck is also completely replaced, and is expanded to 48 cards which should do a nice job at mixing up the game's battles.

The other two variants are much smaller in size and complexity. In the "Missions" variant players are assigned a secret goal from a deck of 10, and are awarded influence if they achieve that goal by the game's end. We've loved the "secret goal" mechanic ever since playing A Line in the Sand back in the early 90's, so we're excited to see how well this one pans out. Hopefully 10 cards will be enough.
Finally we have the "King" variant, which extends the end game. Counter intuitively the game's influence pool is shrunk a bit at the start of the game, but instead of finishing a game of Warrior Knights when the influence pool empties, the game's leader at that point is instead declared the King. For every turn that a player remains the King, they gain one more influence. Meanwhile, Barons can then scramble over the crown, usurping enemies and gaining new powers once it's in their hands. The game ends as soon as one player achieves 16 influence.
Definitely some very interesting stuff going on here that could make things pretty exciting. Currently the Crown and Glory expansion is slated for release in 2007 and is available to preorder from Funagain Games. We'll keep you posted when the release date becomes a bit more.. precise, or as new info is released. Until then you can checkout more info on the official FFG Warrior Knights website.

Read More in: Board Games | Gaming News
Share this Article with others:
Related Articles:
Came straight to this page? Visit Critical Gamers for all the latest news.
Posted by Critical Gamers Staff at May 15, 2007 4:07 PM