Warhammer Renters the Chaotic World of Board Games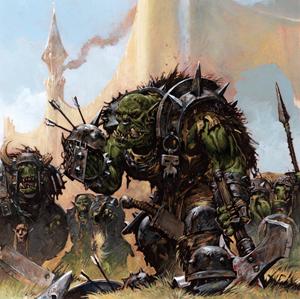 More great news from Fantasy Flight Games - their board game division is working to bring the flavor of the Warhammer tactical tabletop game to our world of less-than-die-hard gamers. You know, those of us who don't find it worthwhile to spend hours painting an army of goblins and chaos priests.
Wait, that came out wrong. We didn't mean to alienate anyone. If that's you're thing, then rock. However, we prefer the boxed games with easy setup and take down times, one up front cost, and not quite the money sink. We already have enough problems.
Anyway, the newly announced Chaos in the Old World puts each player in control of competing gods. What's great is that you're not actually in direct competition, each god is trying to spread chaos across the Old World, but each on does it in their own way. We're a huge fan of these disjointed goal type games - when done properly - because the flavor of the competition is pitched on an angle, nuancey, and just isn't as 'in your face!' . Each god is doing their own thing within its own theme, and that just makes things more interesting throughout an entire gaming session. Anyway, here's a great description of the gods:
---

"Chaos in the Old World makes you a god. Each god's distinctive powers and legion of followers grant you unique strengths and diabolical abilities with which to corrupt and enslave the Old World. Khorne, the Blood God, the Skulltaker, lusts for death and battle. Nurgle, the Plaguelord, the Father of Corruption, luxuriates in filth and disease. Tzeentch, the Changer of Ways, the Great Conspirator, plots the fate of the universe. Slaanesh, the Prince of Pleasure and Pain, the Lord of Temptations, lures even the most steadfast to his six deadly seductions."

- The Ruinous Powers Descend From The North

---
Details of the game are still a bit up in the air, but Fantasy Flight Games have posted 2 previews. The Ruinous Powers Descend From The North announces the game and introduces the theme as a whole, and Word of the Creator further breaks-down your roll as a god of Chaos. What could be finer?
Currently FuangainGames lists the title as shipping in October, but given Fantasy Flight's recent October missed targets, we'd expect 1Q 2010 release. We'll let you know as more details emerge.

Read More in: Board Games | Gaming News
Share this Article with others:
Related Articles:
Came straight to this page? Visit Critical Gamers for all the latest news.
Posted by Critical Gamers Staff at June 5, 2009 5:28 PM