The Wargamer Interviews Tide of Iron Designer John Goodenough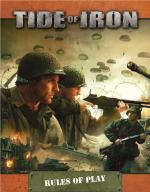 Take a knee Tide of Iron fans. Wargamer.com has posted a great interview with Tide of Iron [Funagain] designer John Goodenough about the upcoming WWII board game slated for release this May.
The interview's topics include details of future expansions (first up is a North Africa Campaign), John's compare & contrast summary of Tide of Iron versus the Days of Wonder hit Memoir '44, and the evolution of ToI's Command System.
Not being huge fans of hex-based wargames, or games that give you too much to chew on between turns, we were happy to run across this soothing statement:
"I believe most wargames do not appeal to the average gamer simply because they seem too complicated. Their rules tend to be very long and detailed with special conditions to maintain historical accuracy. With Tide of Iron, we tried to strike a balance between incorporating historic details and streamlining the system so that the game does not get bogged down with the rules. Players will still feel the historic references without being overwhelmed by them." ~ John Goodenough, Fantasy Flight Games
Good stuff.
In other Tide of Iron news: the latest episode of the The Dice Tower also runs through its own exercise of compare and contrast exercise, this time throwing Tide of Iron against Combat Commander: Europe [Funagain] by GMT games. Check minute 52 of podcast #95 to hear their pro/anti ToI thoughts.
For more information on the upcoming release of Tide of Iron check our other stories:

Read More in: Board Games | Gaming News
Share this Article with others:
Related Articles:
Came straight to this page? Visit Critical Gamers for all the latest news.
Posted by Critical Gamers Staff at April 17, 2007 3:52 PM