War on Terror Board Game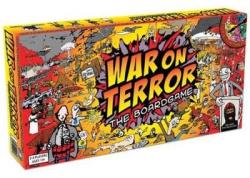 Here's one from TerrorBull Games for all you tongue-in-cheek cynics out there (nothing to be ashamed about -- we're with you).
War on Terror
[
Amazon
,
Funagain
] is a strategy board game that fits together many games we love, and themes it with modern day troubles.
The game nicely combines elements of Risk, with a simplified resource production similar to Settlers of Catan, and stuffs a bit of Diplomacy into it as well. Dark? Yes. Well executed? Definitely, though sometimes theres such a strong balance between two sides that games may last for longer than their expected two hour duration. One thing we really like though: there is a Hidden Message pad that players may use to communicate/conspire with each other, but watch out! Some cards allow players to read the secret messages allowed. Oh boy howdy, that's good stuff -- it reminds us of the communication vouchers from so many days playing the diplomatic game in A Line in the Sand.
Players start with an empty board of the World, placing their markers to carve out their own Empire. Oil well markers are then placed face down on the board, and flipped over to reveal a number (1-12) once the territory has been settled/explored. Once per turn two dice are tossed, and each of the oil rigs with the corresponding number produce money for whichever empire controls them..
Players can then use their money to fund terrorist through purchasing units via the World Bank. Seriously, gotta love that little elbow to the ribs. These terrorist forces can be activated by anyone through the use of cards which are drawn every turn.
If at any point an Empire goes bankrupt, or their cities are destroyed, or if they've just had enough with modern civilization, they join the ways of the Terrorist. They start drawing from a different deck, don't collect oil income, and basically try to take down every Empire left playing. In a way it's sort of like Zombie meets Terrorist in sick game of social conversion.
If that has whet your appetite, then checkout the War on Terror instructions on BGG [pdf].
Here's the company line:
"Enter a world of political kidnappings, suicide bombers, filthy propaganda, and intercontinental war in the War on Terror Board Game! Fight terrorism when it threatens your empire. Fund terrorism when you don't want to get your hands dirty. Fight the terrorists you just funded. You can even be the terrorists. All you need is 2-6 players and an unfaltering desire to liberate the planet! Global liberation has never been so much fun

Contents:

World Map Board
Evil Balaclava
Axis of Evil Spinner
Rules of Engagement
Card Appendix
65 Empire Cards
47 Terrorist Cards
6 Reference Cards
60 Oil Counters
15 Radiation ounters
300 Empire Counters
100 Terrorist Counters
2 Oil Dice
1 Action Die
Secret Message Pad
Lots of Money

"
Read More in: Board Games | Gaming News
Share this Article with others:
Related Articles:
Came straight to this page? Visit Critical Gamers for all the latest news.
Posted by Critical Gamers Staff at November 29, 2007 4:03 PM