War of the Ring Expansion Preview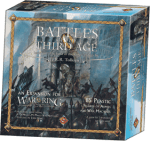 Kristofer Bengtsson over at Fantasy Flight Games has posted a great Battles of the Third Age Preview article. Battles of the Third Age (set to ship this April) is an expansion for the epic and addicting War of the Ring board game. It adds more units and characters to the preexisting Strategy wargame, and also includes a whole new tactical game to play-out some of the famous set battles from the Lord of The Rings novels.
This preview article focuses on the strategy expansion (not the set battles). He're a snippet:
Then we have Sméagol. But he is already in the game, you say! You are correct in a way, but also incorrect. Sméagol, Tamed Wretch, represents the chance that the Fellowship had caught him following them earlier than Frodo and Sam did in the book. What would have happened if Strider or Gandalf had still been around when Sméagol was tamed? Had they been able to make better use of him as Guide than Frodo and Sam did? Now we can find out.
Damn straight we can, and we will, when the expansion ships next month.
Read More in: Board Games | Gaming News
Share this Article with others:
Related Articles:
Came straight to this page? Visit Critical Gamers for all the latest news.
Posted by Critical Gamers Staff at March 10, 2006 2:15 PM