Vasel Reviews "BattleLore Call To Arms" Expansion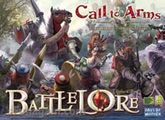 Tom Vasel - the game reviewing machine with a heart of gold - got his hands on upcoming BattleLore [Funagain,Amazon] board game expansion set Call to Arms and ran it through its paces. This weekend he posted a great in depth review with details on the game, and his impressions of the new game mechanics and content.
Not to ruin the ending for you, but he freakin' loved it.
Call to Arms is slated for a landmark release later this month (May 2007) and is the first expansion installment to the historic / fantasy BattleLore war board game that publisher Days of Wonder launched late last year. Included in the expansion are a few new terrain types and some new unit components which work off the game's existing base. Also included are new Specialist cards that allow players to customize their armies - beefing particular units with better gear, stronger forces, or providing overarching strategy options such as free movement, enhanced reinforcement rules that allow a commander to field troops on the front line instead of marching them up from behind.
Also in this expansion is a new deployment mechanic that allows players to draft cards filled with various unit formations. Each player selects four cards from a series of decks, either completely randomly, or - if they'd rather a bit more control over their forces - players can select four cards randomly from two particular decks of their choice. Each card they pull specifies a group of forces that they can field, and the player selects to deploy their forces on the left flank, center, right flank, or in their reserves.

In this way players can quickly create a random army of somewhat equal balance, and pit it against another army drawn by their opponent. Holy replay value. Who needs Scenarios?
Those of you who got upset at that question should know that the game ships with 6 precanned scenarios, too. So breathe easy. Plus, don't forget about the upcoming user content that will available on the BattleLore website!
BattleLore: Call To Arms is slated to ship in May, and is available to preorder from Funagain Games. We'll let you know as soon as it ships to stores.
Read More in: Board Games | Gaming News
Share this Article with others:
Related Articles:
Came straight to this page? Visit Critical Gamers for all the latest news.
Posted by Critical Gamers Staff at May 7, 2007 4:57 PM