Vassal - Play Board Games Online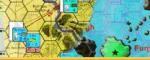 Absolutely nothing can replace the social experience a group of friends has when huddled around a table playing a board game. Jokes are cracked, drinks are spiked, egos are pumped, and then torn down all in the name of having a good time. But let's be honest - sometimes coordinating a night for gaming just isn't possible. Friends have a knack for moving away, squirting out babies, etc. Free time disintegrates as our lives march on.
Enter the "Vassal" framework for playing board games on the computer, remotely, over the Internet, for free.
VASSAL is an engine for building and playing Internet-capable versions of turn-based, human-vs-human games. Players move and manipulate game pieces via the mouse while typing accompanying text. Moves can be recorded into a log file and stepped through one at a time for email play. During live Internet play, all moves and text are automatically broadcast to other players in real time. Combining a live VASSAL session with a third-party Internet voice-chat tool (such as NetMeeting or TeamSpeak) allows you to play with people around the world at very close to face-to-face pace.
Vassal has a lot of things going for it, including a near picture-perfect virtualization of board game titles and an active community that's glad to answer any of your download and setup questions (setup can be a bit confusing at first). There's also an active mod community who are constantly at work porting new game titles to Vassal's already strong library (over 100 titles!).
Definitely give Vassal a once-over if you grew up playing Axis and Allies, Squad Leader, etc, and yearn for those glory days of old.
Read More in: Board Games
Share this Article with others:
Related Articles:
Came straight to this page? Visit Critical Gamers for all the latest news.
Posted by Critical Gamers Staff at May 17, 2006 10:35 AM