"Twilight Imperium: Shattered Empire" Expansion Ships
The first expansion to the Fantasy Flight Games Big Box title Twilight Imperium 3rd Edition [Amazon, Funagain] has shipped to stores.
Shattered Empire [Amazon,Funagain] adds four new races to the galactic civilization strategy game. Each sports a new race sheet with new abilities to customize both the civilization's economic and political strengths, and the civ's various elements of fleet combat. Also, the game's dynamic tiled board is further customizable with new system tiles to chose from. Heck, the expansion adds more depth to just about everything in the game from spaceship pieces, to political cards, strategy cards, and action cards. The game even lets you add two more people to the table, bringing the total number of players up to a potential eight.
If there has ever been an alpha-male board game of galactic conquest, then Twilight Imperium is it. Now Shattered Empire delivers an injection of Androstendione straight to the left butt cheek. Here's the official word:
The Company Line: "The Lazax empire has fallen - first into decay, and then, after a long twilight, into history. It is done and gone, but a new day is dawning, and your people have a new chance to mold the Twilight Imperium to the design of your race.

Twilight Imperium: Shattered Empire is an expansion for Twilight Imperium Third Edition. It enhances gameplay with a variety of new options and enables you to play with seven or eight players in an epic struggle for true galactic dominance!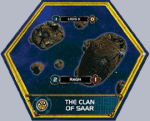 Twilight Imperium: Shattered Empire includes:

Four never-before-seen races join the struggle for empire!
Two new colors of plastic units to allow for up to eight players in a single game.
Dozens of new system tiles, including new special systems such as Ion Storms, Hope's End, trade stations, and the Wormhole Nexus.
Brand new technologies for all eight players, including a new never-before-seen type of tech!
Eight new variant strategy cards for a completely different gameplay experience, and an additional variant Imperial strategy card for optional use with the core strategy set.
An even broader array of agendas and options in the form of new Action, Political, and Objective cards
Facilities, shock troops, artifacts, space mines, and more! " -From Shattered Empires' Official Website
The Twilight Imperium 3rd Edition [Amazon, Funagain] expansion "Shattered Empire" is now available to order from Amazon and Funagain Games.
Read More in: Board Games | Gaming News
Share this Article with others:
Related Articles:
Came straight to this page? Visit Critical Gamers for all the latest news.
Posted by Critical Gamers Staff at December 19, 2006 1:01 PM