Tribune - A Board Game of Roman Political Infighting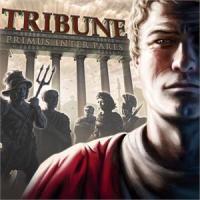 Fans of both Pillars of the Earth and the Set Collection genre of games like Ticket to Ride listen up! Publisher Fantasy Flight Games has just released the eurogame Tribune [Amazon, Funagain, StarlitCitadel], a game set in Ancient Rome that squishes both styles of games together, and quite successfully to boot.
In Tribune players draft through a turn order and place their various pieces on the board. Depending on which areas a player elects to control, they will draw cards, and earn and spend money. Cards are drawn from various themed portions of the board, including the Roman Forum, Slave Market, and even from political intrigue occurring in the public Latrine. Those Romans knew a good time.
The goal is collect colored cards into your hand, and the play sets of the same color to influence 1 of 7 major factions that makeup the board. With influence won, each faction rewards the controlling player with themed set of special abilities.
The turn order drafting and placement is Pillars-esque, but to win you need to collection sets of colored cards like Tickets. It's literally the best of both worlds, just replace the trains with axe wielding gladiatorial slaves that fight for gold and well... there you are.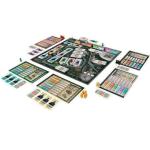 For an in-depth review and initial feedback from the gaming audience check out this fantastic Review by Jason Cheng in the Board Game Geek forums. Here are the official details from Fantasy Flight Games:
"Poor or rich, strong or weak, Patrician or Plebeian, hear the word of the Tribune! He is one of you, but he is the Tribune, he is the primus inter pares -- the first among equals!

Welcome to the most impressive metroplis of the ancient world -- Rome. A city full of life, with inhabitants of many differences. But beneath those differences they had one thing in common -- they were Romans.

Play as one of the great patrician families which held great power and influence. Gain control over the seven factions of the city which hold control over many aspects of Roman culture.

In Tribune, you try to become the most powerful family in Rome. Will the Legions stay faithful? Will you be honored with the favor of the Gods? Will you even get the title of Tribune? Get ready to rewrite history!"
Read More in: Board Games | Gaming News
Share this Article with others:
Related Articles:
Came straight to this page? Visit Critical Gamers for all the latest news.
Posted by Critical Gamers Staff at July 3, 2008 11:40 AM