Travian - A Slick Little Massive Web Game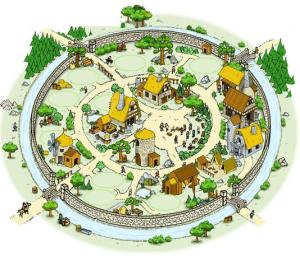 We want to take a break from the normal board game news to talk to you a bit about one of our new vices:
Travian
. When we first fired up this online web-based game and connected to Server 5 we expected another drab turn-based, and dry economic simulation. Instead we've been treated to a colorful, slightly addictive, social and fun online experience of carving little empire out of a much larger world.
Travian reminds us of a mix between the Settlers of Catan and an old BBS game from our youths: Solar Realms Elite. If you've played SRE then consider Travian a modern revamp of those same mechanics that kept you coming back for more.
Players start a village in "ancient times", which are loosely defined and include different civlizations including Romans, Gauls and the Teutonic Order. There are also some fantasy themed sects as well. As the day ticks on (in real life) your town produces resources which are placed in your warehouse and granary. You can use those resources to better your fields, clay pits and iron mining operations, or to upgrade your town with barracks, armories, embassies - the works.

After a while our "grace period" expired and our sense of purpose broke through the simplicity the game had been thus far, and then the game's true potential shined through. Suddenly other players in the nearby countryside sent out troops to raid our tiny villages. These were controlled by other players pulling the strings on their own puppet empires, but since our new towns were our capitals we were impervious to capture, never in any danger of subjugation and only somewhat harrased. Instead the raiders continued their 'visits' and lift a few resources that didn't fit in our somewhat meek hideaway (hint 1: Get your Cranny to Level 10 before your grace period ends).
Eventually we've built up enough to not be our region's scrawny little push over with the thick rimmed glasses, and through our network of embassies we've formed an alliance. From here on out it's all about founding new cities in our empire and smiting our enemies -- all in slick little strategy game set in a dynamic massive multiplayer environment. And it all doesn't take much effort to break make you obsesses too much - instead evolving your village is more like pruning a bonsai tree.
And we're hooked.

Read More in: Board Games | Gaming Culture
Share this Article with others:
Related Articles:
Came straight to this page? Visit Critical Gamers for all the latest news.
Posted by Critical Gamers Staff at December 5, 2007 4:32 PM