Travel Blokus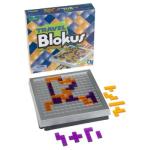 Amazon.com: Travel Blokus: Toys & Games Parents looking to keep their kids occupied on long car trips without the use of the zombie-matic DVD players can breathe easy; there are other - more creative - options. Travel Blokus [Amazon, Funagain] packs the award winning and clever gameplay of original Blokus into a nice travel sized carrying case.
The competitive puzzle game design that won the Mensa Best Mind Game 2003 is still here, but now It's compacted for car travel, plane travel, or breaking out a game in an otherwise drab highway motel, etc. Who wants to watch CNN or repeats of "Alice" anyway? And the plastic bits float, which means that it's even safe for boat travel - which is great if things go south and you want to get in a a few rounds while waiting for the rescue plane. What will they think of next?
"This travel version of the award winning Blokus is the perfect on-the-go strategy game for two! The simple rules take less than a minute to learn, yet the game has the depth to challenge both beginners and experts alike."
Contains

Game board with 196 recessed squares

42 game pieces in vibrant, translucent purple and orange, and a guide.

Instruction guide and a storage tray.
Reviews
Read More in: Board Games
Share this Article with others:
Related Articles:
Came straight to this page? Visit Critical Gamers for all the latest news.
Posted by Critical Gamers Staff at July 23, 2007 9:45 AM