"Tide of Iron" Website Goes Live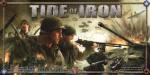 Fantasy Flight Games has opened the lid on their upcoming Big Box Game release Tide of Iron [Funagain]. The official website contains preliminary details about this WWII European Theater tactical wargame, including news of a downloadable scenario editor that fans can use to design and upload their own custom WWI battles to the website.
This of course follows the other latest news that the BattleLore Adventures editor builds an online user base around the same principle - communities sharing new gaming content is a viral mechanism to increase the longevity of a game system. We're a huge fan of this, and we hope more games make use of a flexible foundation of rules coupled with user generated content. Plus we're excited for the library of scenarios that are modeled after historic battles of the twilight months of WWII.
Tide of Iron is another in the line of Big Box titles from Fantasy Flight Games. Big Box games are big. Blows your mind right? Just how big: They ship with boards twice the size of most games, the box has a ton of pieces, and most games sport a forty-page tome of a rulebook. Traditionally these big box titles approach - if not surpass - the Expert level of gaming rules, but they reward players with ebb n' flow gameplay, random events that spice things up, and personal epic story lines that unfold as you play each game over the course of hours with your friends.
It's currently not very clear where Tide of Iron falls on that Beginner->Expert scale of things, but we'll be sure to let you know once the rules are posted online.
Here's the official game description from their website:
The Company Line: "TIDE OF IRON places you in command of a division of fighting men and machines in the most important conflict in the world's history. Your brave soldiers will capture and hold objectives, lay down covering fire, and under your command they will emerge victorious ... you hope.

PLAYERS
2-4 players on two teams. TIDE OF IRON includes American and German forces, and armies are divided into two divisions to support two players on a side.

SCENARIOS
TIDE OF IRON is a Scenario-based game, with the available forces, objectives, map, and victory conditions being set by each given scenario. The rulebook includes a variety of scenarios, and you can find more at the "Scenarios" link to your left, as well as create your own! " - From The Official Tide of Iron Website
Tide of Iron was originally scheduled to ship December 2006 -- but you know how that goes. Our radar currently blips the big box title for a relase sometime in late January 2007. We have our fingers crossed.
Tide of Iron is currently available to preorder from Funagain Games.
Read More in: Board Games | Gaming News
Share this Article with others:
Related Articles:
Came straight to this page? Visit Critical Gamers for all the latest news.
Posted by Critical Gamers Staff at January 1, 2007 11:28 AM