Tide of Iron Tactical WWII Board Game System Ships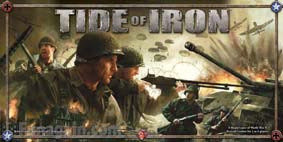 Oh yes, very very nice. After a few delays Fantasy Fight Games has finally shipped the Big Box strategy WWII wargame system Tide of Iron [Amazon, Funagain]! It's a little late for Memorial Day, but just in time for D-Day, which - we suppose - is more fitting anyway.
Our copy arrived direct from Fantasy Flight over the weekend, but we've only just had enough time to oggle the pieces so far. But we're WWII nuts here, so we already have some serious designs on how to put this title through its paces. Until then, this user review remains our favorite overview of the game. Those of you looking for some more official notes should also checkout Tom Vasel's Review over at the The Dice Tower, who wears his gaming heart on his sleeve and does a beautiful job as he breaks down the game bit by bit.
Here's the official sitrep:
"Word War II was the greatest mobilization of fighting men and machines that the world has ever seen; tanks and soldiers combined into a veritable tide of iron that changed the world. Now the largest and deadliest conflict in history comes to your tabletop in Fantasy Flight's game of World War II squad-level tactics!

Tide of Iron feature hundreds of detailed plastic figures, including soldiers, tanks, and other combat vehicles. The game rules focus on realistically simulating squad-level combat, but are streamlined enough to appeal to casual board gamers. Tide of Iron features a modular game board on which up to 6 players (divided into 2 teams) can test their tactical prowess in dozens of scenarios.

Tide of Iron joins the ranks of Fantasy Flight's runaway hits Twilight Imperium, Descent, and World of Warcraft in the epic sized box. With a box two feet wide and over ten pounds you know its full of World War II action!

"
The Tide of Iron system is now shipping from Amazon and Funagain Games, or can be ordered directly from Fantasy Flight Games.
Read More in: Board Games | Gaming News
Share this Article with others:
Related Articles:
Came straight to this page? Visit Critical Gamers for all the latest news.
Posted by Critical Gamers Staff at June 4, 2007 6:36 PM