Tide of Iron Rules Released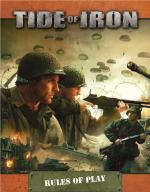 Publisher Fantasy Flight Games has released the rules to their upcoming WWII epic Big Box war game Tide of Iron [Funagain]. The rules are available in Adobe Acrobat PDF format, and can be downloaded/viewed here.
The Big Box games from Fantasy Flight is a flavor of titles that ship with tons of pieces and set of rather complicated rules that lean toward Expert on the complexity scale. The marriage of this standard design philosophy with a World War II war game seemed like it might break the complexity barrier, sending normal players into an argumentative vortex of page turning and fist slamming aggression.
But now that we can see this stuff completely fleshed out in the rules, we can see that Tide of Iron remains just as approachable as any of the other Big Box Games. This, of course, doesn't mean you'll be breaking out Tide of Iron for family board game night. The title's learning curve is still quite steep and is probably best left to play with friends who want something one step deeper than the normal offering of the Axis and Allies suite of games.
For instance, the game has pillboxes and entrenchments which provide cover for troops making them less apt to be hit by Private Bag of Donuts or any other smacktard with a gun. These pieces of cover modify dice rolls, from certain angles of attack. Not too complicated... But then there are other mechanics that you have to resolve on the board including modifiers for: pinned or disrupted troops, battlefield smoke, and the directional drift of artillery barrages. As you can tell there's definitely a few layers of complexity to this game, but it's not all too bad in the end - the game's supplies visual tokens to easily represent these various modifiers, and each modifier seems to be easily resolved. There's just more going-on in a round of Tide of Iron that you have to keep your head around. That's all.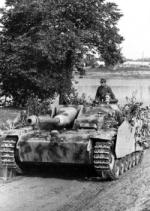 In the end we're excited. We love Fantasy Flight's Big Box lineup (some more than others) and it seems like they're doing a great job covering our favorite wargame setting - the fields, hedgerows and towns of Western European during WWII. Could this be the next Squad Leader? We'll have to wait and see...
In the meantime we'll keep you posted of any further Tide of Iron developments as we roll closer to release, including news of the game's scenario editor. More information can also be found on Fantasy Flight Game's official Tide of Iron website.
Tide of Iron is currently schedule to ship in February and is now available to preorder from Funagain Games.
Read More in: Board Games | Gaming News
Share this Article with others:
Related Articles:
Came straight to this page? Visit Critical Gamers for all the latest news.
Posted by Critical Gamers Staff at January 30, 2007 3:22 PM