Tide of Iron Initial Thoughts on the DT Podcast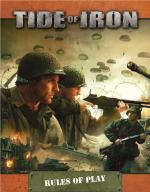 The latest episode of The Dice Tower podcast has the initial impressions of hosts Tom Vasel and Same Healey first session with the WWII wargame Tide of Iron [Funagain] from Fantasy Flight Games. And in the world of gaming we hold the opinions of Tom and Sam in the highest regard ( especially for people we've never met. )
So how did ToI pan out for 'em? They found their first session of to be very entertaining, with a detailed and streamlined gameplay, and a lot of potential for replayability given the dynamic board, customized units and varying scenarios. The one true complaint seems to stem from the swappable unit bases where you can make squads of four with various different unit figures. The material of the miniatures is a little weak, so it's a bit stressful to push down hard on these things.
The review starts at 45:40 in the podcast, but we don't endorse skipping the whole thing. There's tons of gaming goodness in these podcasts. Here are the complete show notes for Episode #90: Tide of Iron:
"In this episode, we give our top ten games for a church gaming group; and continue our contest for 24/7 and Incan Gold. We have a discussion about whether or not free review copies sway the opinion of the reviewer, with input from Moritz, Greg Schloesser, Sam and myself. Mary reviews Crokinole and gives us the news, and we finish out the show with a preview and session report of the brand new Tide of Iron!"
See, just one day after our news on Kill the Hippies we counterbalance it with Church Group games. Well...isn't that special?
Read More in: Board Games | Gaming News
Share this Article with others:
Related Articles:
Came straight to this page? Visit Critical Gamers for all the latest news.
Posted by Critical Gamers Staff at March 8, 2007 1:39 PM